FCT COMBUSTION NEWSLETTER: MARCH 2020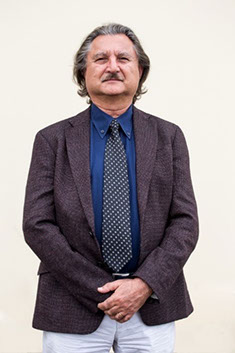 Dear Friends,
These are testing and unprecedented times that have been thrust upon us, and our hearts go out to all the people affected by this invasion of the Covid-19 Corona virus.
As time goes on, it is becoming more apparent that the direct and indirect consequences have changed all of our lives probably forever.  The health and safety aspects are enormous as every jurisdiction is attempting to limit the scope and rate of infections to give health systems the best chance to cope, and clearly many countries are struggling with this.
At FCT, we have adopted all recommendations applicable to safeguard the health and welfare of our staff, customers, business associates and stakeholders, and we will continue to do that.
We are in an extremely busy stage of projects currently across many countries in the world, and these projects will be delivered on time in every aspect that relies upon FCT Combustion. However, this depends somewhat on the ability of sub-suppliers and freight to continue operation – which is the case so far – and FCT is actively monitoring them for any potential change to find options for on-time delivery if needed.
It helps that we have full operating bases in a number of countries where our main customers are based, and have choices of sub-suppliers in many countries also that allows us to tailor our project delivery to meet the circumstances and need.  It also helps that within FCT we are familiar and organised to work remotely so that we have many staff working effectively from home now due to the isolation measures recommended to minimise the spread of the corona virus.
The future of the world economies and related business activities post this pandemic is unknown to anyone at this time.  At FCT we will endeavour to ride through this storm and put ourselves in the best position to meet our customer needs post this event – whatever that looks like.
For now, we will continue with normal business activities as best we can and complete existing orders and strive to gain new ones.
We are indeed grateful to our loyal customers both new and old that have supported and trusted us to deliver our products and services for the past 35 years and allowed FCT to continue the growth particularly in recent years.
We sincerely hope and pray that all of you stay safe and healthy during these times, and that your families and your business is minimally affected by these terrible events.
We can only hope that the world finds a cure for this virus and we all return quickly to some sort of normality in the short term.
I wish everyone the very Best.
Managing Director
FCT International

PROJECTS ACROSS THE GLOBE
RECENTLY COMPLETED OR CURRENTLY ACTIVE PROJECTS ACROSS FCT COMBUSTION INCLUDE:
AUSTRALIA: Iluka, North Capel
FCT Combustion will supply combustion equipment for a mineral sands processing line. The supply will include a Turbu-Jet™ burner, valve train, BMS system and fans.
AUSTRALIA: Metso, Western Australia
FCT Combustion will supply combustion equipment for 2 x lithium ore (spodumene) processing lines. The supply will include two Turbu-Jet™ burners for calciners and 20 burners for acid roasters, as well as valve trains, BMS systems and fans.
BRAZIL: Vale, Vitoria
FCT Combustion has been awarded a contract to supply the plant with 40 burner systems and valve trains as well as a natural gas pressure reduction station for a travelling grate kiln.
BRAZIL: Votorantim Cimentos, Cuiaba
Turbu-Flex™ burner has been commissioned to operate with petcoke and fuel oil, as well as coprocessing alternative fuels such as rice husks and wood shavings.
CHILE: Compania Minera del Pacifico, Huasco
Compania Minera del Pacifico is the largest iron ore producer in Chile.
FCT Combustion won a contract to deliver the entire conversion of their direct system to indirect firing, including the silos, dosing, bag filters, fans, explosion doors, gas analyzers and inertization system. The supply also included a Turbu-Jet™ burner along with all the accessories, and integration of the EP package.
The project was recently commissioned in March 2020.
CZECH REPUBLIC: Carmeuse, Mokra
A Turbu-Jet™ burner was commissioned in December 2019 and it is currently under performance test for a rotary lime kiln. Main targets of the project include an increase of substitution rate by alternative fuels, improved combustion and operation control. The complete scope includes kiln burner, trolley, burner management system and accessories.
FINLAND: Finnsementti (CRH), Lappeenranta
Turbu-Flex™ burner was commissioned for a clinker kiln in February 2020. The project followed the installation of a Turbu-Flex™ burner in Finnsementti's Parainen plant in April 2019. The main targets for both projects were improved clinker quality with increased amount of alternative fuels. The scope of supply includes the burners, blowers, accessories and spare parts.
FRANCE: Eqiom (CRH), Heming
Two new high momentum Turbu-Flex™ burners have been delivered and were commissioned for improved alternative fuels firing in lepol kilns. Currently under performance test. The scope of supply includes the burners, blowers, accessories and spare parts.
FRANCE: Undisclosed client
FCT Combustion has been awarded a contract for a new high momentum Turbu-Flex™ burner. Delivery is expected for June 2020.
GERMANY: HeidelbergCement, Burglengenfeld
FCT Combustion undertook a burner upgrade for improved alternative fuel firing capabilities alongside coal and petcoke. The upgraded burner is being commissioned.
NAURU: Republic of Nauru Phosphate Corporation (RONPHOS)
RONPHOS has two rotary kilns for drying of phosphate rock, with only one kiln currently in operation. Each kiln has its own hot gas generator (HGG).
RONPHOS are seeking to increase phosphate production to 500,000 tpa. There is potential for further production with their main customer requesting 1,500,000 tpa and to this end are currently restoring the second kiln to bring it into operation. Resource indication is 25-30yr mine life. There is the possibility of an additional kiln at later date so the request is for a system which is robust and not likely to go obsolete quickly.
The existing kilns are diesel fired; RONPHOS collects waste oil from the island's power station, refugee camps and various other sources. The waste oil stock is accumulating. RONPHOS is looking for means to start burning the waste oil.
RONPHOS has requested that FCT provide a combustion system suitable for the existing HGG's and kilns which will utilise diesel and waste oil with minimal maintenance. The existing burner is obsolete. The request therefore is for 2 burners with spares and a rotable burner spare to allow swap around and burner servicing.
RUSSIA: Metalloinvest, MGOK
FCT Combustion will supply four new I-Jet burner systems for a natural gas travelling grate kiln.
SLOVAKIA: Cemmac (Asamer Group), Horne Srnie
Turbu-Flex™ burner for a clinker kiln is currently being commissioned. The main targets are to increase alternative fuel firing and improve flame and emissions control. The project includes the delivery of the burner, blower and surrounding equipment as well as a CFD of the kiln for further optimization of the process.
TURKEY: Akcansa Cement (Heidelberg Group), Büyükcekmece
FCT Combustion is currently undertaking a burner upgrade for 2 kilns for improved combustion and emissions control. Delivery is in the first quarter of 2020.
USA: FLSmidth, Undisclosed Final Customer
FCT Combustion has been awarded a contract to supply a Hot Gas Generator to operate at 1400°C without refractory. A gas fired pilot will be provided to initiate ignition. Self-checking type UV and IR scanners will be provided to scan the NG flame. For combustion control and safety, a new BMS system is included.
USA: Imerys, Andersonville
Replacement of existing main burning system to accommodate alternative fuel firing for the plant's six kilns was completed at the end of 2019. The main goal is to allow the usage of 100% peanut husks as alternative fuel in substitution with natural gas.
USA: Keystone, Bath
FCT Combustion has been awarded a contract to supply a Turbu-Jet™ burner in order to allow 100% natural gas firing, 100% coal firing and the use of liquid wastes. Calciner burners should be able to fire 100% natural gas and DDP Calciner burner should burn liquid wastes and natural gas. Scope also includes the valve trains and BMS for the system.
USA: KHD Humboldt Wedag, for Lehigh Cement
FCT Combustion has been awarded a contract to supply a Gyro-Therm™ Mk3 burner for the new Lehigh Hanson 7,000 mtpd kiln at Mitchell, IN. The burner is capable of firing 100% natural gas. Calciner burners designed to fire 100% natural gas will also be supplied.
The scope includes all the necessary accessories, field instruments, BMS and valve train for burner operation. The contract also includes two new Hot Gas Generators to be installed in other sections of this new plant.
USA: LafargeHolcim, Sparrows Point
FCT Combustion has been awarded a contract to supply a modification of the existing BMS and a natural gas valve train to comply with NFPA 86 requirements, and also to improve the operation and maintenance of both burners installed at the Slag dryer.
USA: LafargeHolcim, Ravena
A Turbu-Jet™ burner was installed as the new main burner at the end of 2019. The burner is capable of firing 31% oil, 100% coal and 100% natural gas. A calciner burner designed to fire 100% natural gas was also supplied.
USA: Lhoist, St Genevieve
FCT Combustion has been awarded a contract to supply the replacement BMS and valve train for existing burning system, including an upgrade on the existing burner.
USA: Northeast Solite Corp, Mt Marion
FCT Combustion has been awarded a contract to supply a Gyro-Therm Mk3 burner to allow 100% natural gas firing at their rotary kiln. The scope of supply comprises the burner, igniter, flame sensor, valve train and BMS System.
USA: Titan Cement, Medley
FCT Combustion has been awarded an EPC Contract to completely convert the existing 5,000 stpd kiln system at Pennsuco Plant in Florida for 100% Natural gas Firing.
The scope comprises a new Gyro-Therm™ Mk3 burner with dual fuel capability and a spare single fuel Gyro-Therm™ Mk3 burner with a 100% Natural Gas Firing capability. The scope includes all the necessary accessories, field instruments, BMS and Valve train for the safe and optimized operation of the system according to NFPA 86.
In addition, FCT will provide all the civil, structural and mechanical, erection including the new gas pipeline and full electrical and automation installation. This contract re-affirms FCT's capabilities on not only EP supply, but also for complete EPC solutions in the United States.
VIETNAM: Vinacomin, Tan Quang.
A Turbu-Jet™ burner was commissioned in January 2020, capable of firing low calorific value coal and diesel oil. The main objectives of the project are to improve clinker strength and production, reduce fuel costs and allow for the re-use of existing ancillary equipment.
The project follows the successful installation of a Turbu-Jet™ at another Vinacomin plant – Quan Trieu – where the burner significantly reduced fuel costs with lower grade fuel whilst increasing capacity and maintaining quality.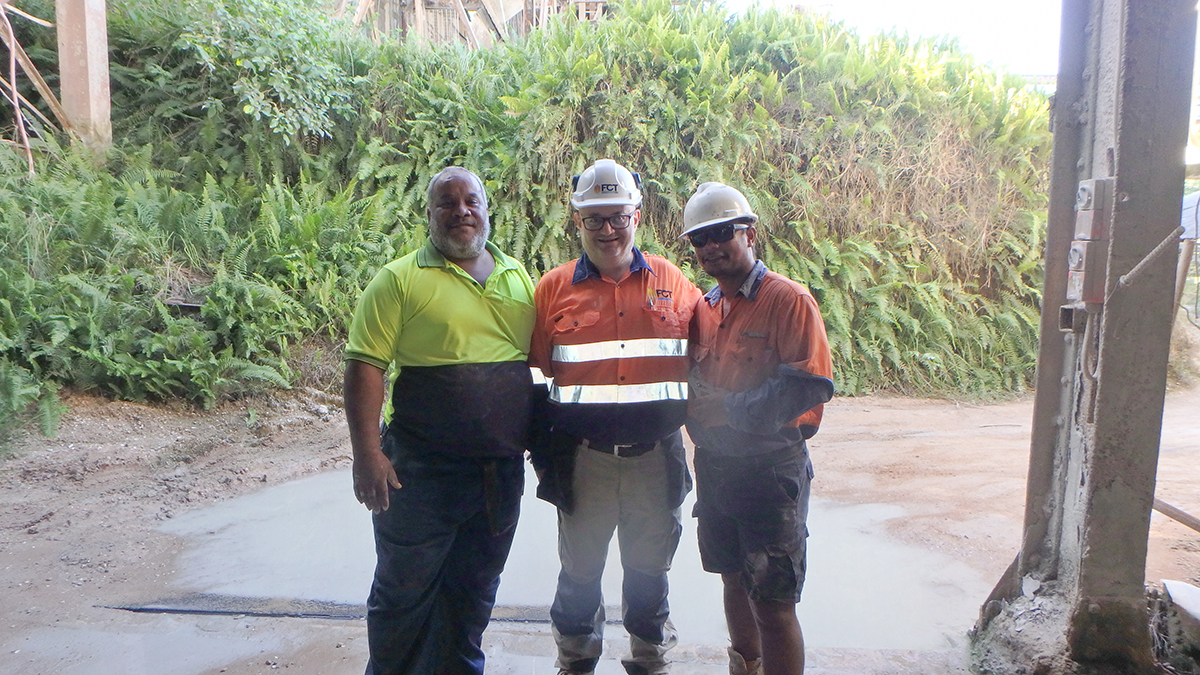 FCT Combustion's Nader Qamar (centre) on site with Dax and Jeff of RONPHOS in Nauru recently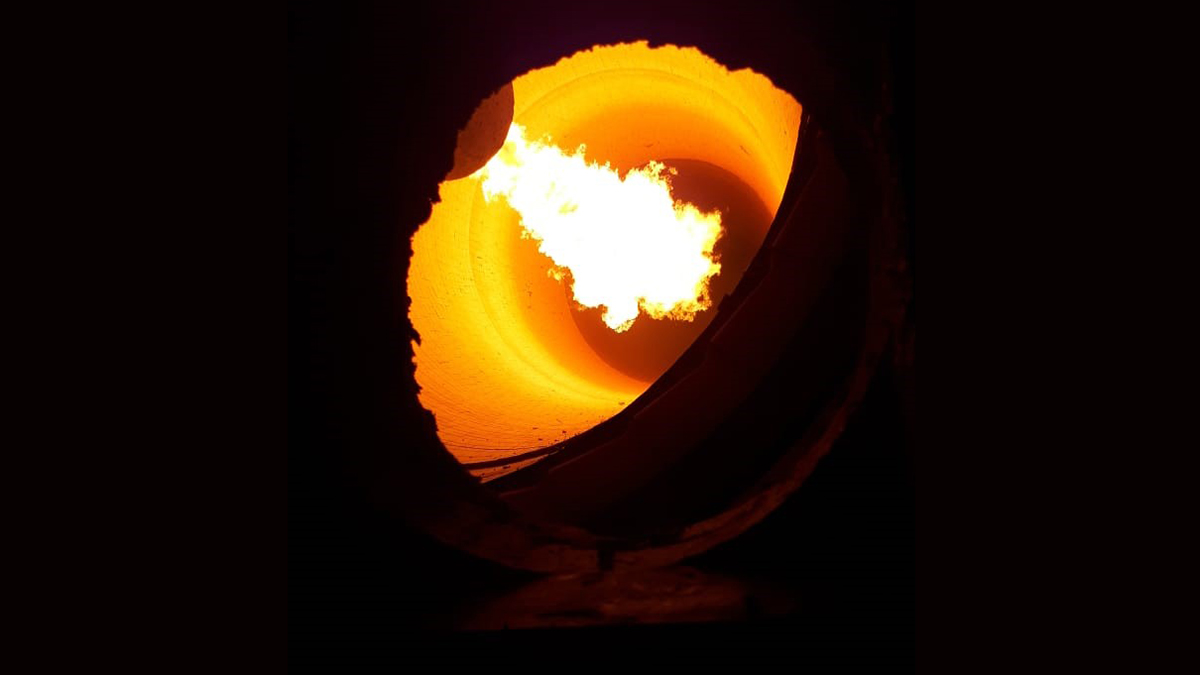 Turbu-Flex burner during performance tests recently, after being commissioned for a client in Europe
At FCT, we know that our continued success is largely due to our team's commitment to providing the best products, service and expertise across all our offices. We are pleased to introduce the newest additions to our team: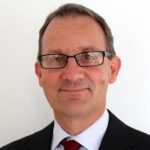 Michael England: Chief Financial Officer, FCT International

Michael commenced in November 2019 as Chief Financial Officer for the FCT International group of companies. Michael is a Fellow of CPA Australia and holds an MBA. With extensive experience running finance and administration teams internationally, Michael's most recent position was based in Hong Kong as the Regional Finance Director for Triumph International, a large multi-national apparel company.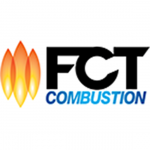 Diego Bernhard: Senior Engineer, FCT Combustion (Americas)

Diego has joined FCT Combustion as a Senior Engineer. After graduating from the University of São Paulo – Escola Politécnica – Diego joined GRECO working as a design and site engineer, building relevant experience in burners, hot gas generators and environmental solutions. After this, Diego started his own venture, supplying to large companies such as Petrobas, CSN and Vale. Diego's experience in turn-key projects as well as working for large customers across various industries will be instrumental in the delivery of a range of turn-key projects FCT Combustion will undertake.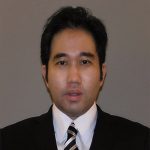 Andrew Adipuri: Business Development Manager, FCT Combustion (Asia Pacific)

Andrew joined FCT Combustion's Asia Pacific office in February 2020 to help drive business development within the region. Previously a Sales Account Manager at FLSmidth in Western Australia, Andrew also has a wealth of technical process experience having held engineering positions with Nyrstar and Midrex Technologies in the USA and with Outotec in Germany. Andrew holds a PhD in Metallurgy from the University of New South Wales and is a fluent speaker of English, Bahasa Indonesia, Malay and German.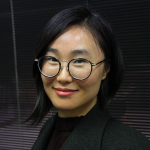 Belinda Liu: Finance Manager, FCT International (Asia Pacific)

Belinda Liu joined FCT in March 2020 as Finance Manager for FCT Flames as well as FCT Combustion in the Asia Pacific region. Belinda is a CPA with a Bachelor of Financial Management and a Master's degree in Professional Accounting from Latrobe University in Melbourne, Australia. Before joining FCT, Belinda worked for a variety of multi-national companies including Schneider Electric, Thomas Foods International and Prophecy International.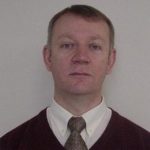 Moacir Radiuk: Controller, FCT Combustion (Americas)

Having joined FCT Combustion in February 2020, Moacir brings 38 years of experience developed in companies such as Arvos Group, Alstom, DuPont, Volkswagen and Brastemp (Whirlpool). Moacir's most recent role was with Schenck Process as Administrative and Financial Manager and he holds both graduate and post-graduate degrees in Business Administration.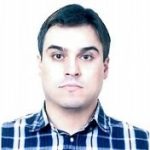 Ricardo de Sordi: Project Manager, FCT Combustion (Americas)

Ricardo joined FCT Combustion in September 2019 as a Project Manager. Prior to this, Ricardo was Senior Contracts Administrator with Schenck Process and with ARVOS Group. With a graduate degree in project management, as well as a degree in Production Engineering, Ricardo has solid experience in managing industrial projects within large companies and leading multidisciplinary teams.
Ricardo Costa presented on the topic 'Successful conversion to gas firing' at the ILA Information Exchange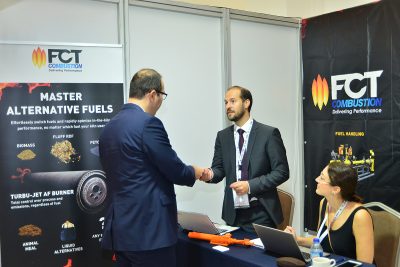 Joel Maia enjoyed meeting attendees at the TCBM 2019 Conference in Turkey
FCT Combustion partners with ICON Empresas to offer a comprehensive range of hot gas generators
We are pleased to announce that in response to customer demand, FCT Combustion has entered an agreement with ICON Empresas to expand the breadth of our existing hot gas generator range with two new products.
The advantage of the FCT-ICON Solid Fuel Hot Gas Generator is that it eliminates the need for a grinding system to first pulverise fuel, increasing efficiency and reducing costs by allowing the use of cheaper solid fuels without the high capital expenditure that would normally go with this. The FCT-ICON Hot Gas Generator can operate with various crushed fuels including petcoke, wood chips and coal – thus reducing the cost of hot gas – and can be applied across a wide range of industries.
The second product is the FCT-ICON Mobile Grate Hot Gas Generator, which is able to use refuse derived fuel (RDF) and a range of other alternative fuels to produce hot gases for drying or mineral processing applications.
Complementary to FCT Combustion's existing range of burner systems and accessories, the hot gas generators can be bundled to create a complete solution depending on the client's needs. A recent example of this was a successful installation as part of FCT Combustion's complete clay drying system solution for UCEM's Chimborazo plant in Ecuador, where the Solid Fuel Hot Gas Generator was installed using lump coal and/or petcoke to generate hot gases for clay drying instead of having to mill the solid fuels.
FCT Combustion is proud of our relationship with ICON Empresas and the ability to offer this well proven equipment to our customers. With these two new products, in addition to our existing hot gas generator offerings, FCT Combustion now offers customers a complete range of conventional and special purpose hot gas generators to suit their needs.
The FCT-ICON hot gas generators have a strong reference list which, combined with FCT Combustion's pyro-processing and project management expertise, will provide customers with innovative solutions they can depend upon.
For more information, view the product page or contact your local office.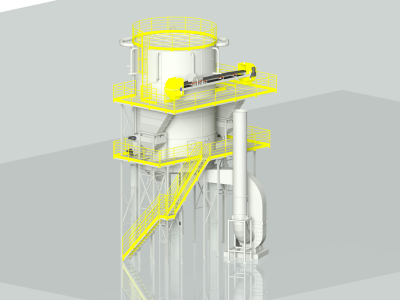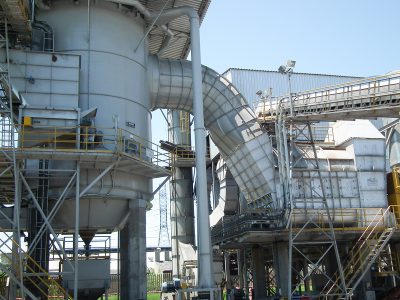 Cauldron performs in extreme weather for the SEA Games
Congratulations to our sister subsidiary, FCT Flames, for the delivery of a spectacular cauldron for the Southeast Asian (SEA) Games. The cauldron was lit by champion boxer and current Senator Manny Pacquiao at the event held in the Philippines in November 2019.
With extensive experience supplying ceremonial cauldrons for high profile events including the Olympic Games, FCT Flames used exclusive technologies to ensure the cauldron was designed to perform under extreme weather conditions including heavy wind and rain in the lead up to Typhoon Kammuri.
FCT Flames worked with event organisers to create a cauldron that would complement the surrounding architecture and environment. The podium on which the cauldron sits, as well as the backdrop, was designed by National Artist for Architecture, the late Francisco "Bobby" Manosa.
Measuring 12.5m high, the podium incorporates various elements to symbolise the Philippines, including three main pillars to represent Luzon, Visayas and Mindanao, as well as 11 steps to represent each of the countries participating.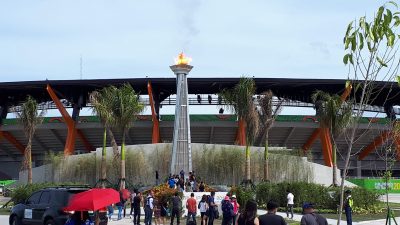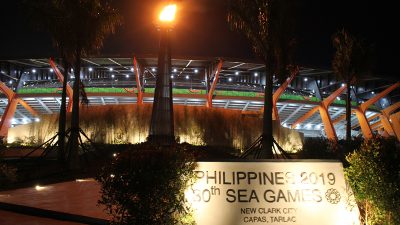 Masterclass: Fluidized Bed Hot Gas Generator concept and applications
The FCT-ICON Solid Fuel Hot Gas Generator (HGG) is able to use solid fuels without the need for grinding to first pulverize them. Below, we explain how the fluidized bed component works, enabling this innovative technology to provide economic savings and increased efficiency to our customers.
Fluidization Concept
Fluidization is the physical phenomenon that causes a solid to have a fluid behavior. Is fundamentally based on the circulation of solids together with a fluid (gas or liquid) preventing the existence of temperature gradients, very active points or stagnant regions in the bed. It also provides greater surface contact between solid and fluid, favoring the transfer of mass and heat. In the case of the fluidized bed, this phenomenon facilitates the interaction of air with fuel evenly, without contact with metal or moving parts, and then combustion and generation of hot gases that will be used in subsequent processes, such as drying.
Fluidization occurs when an upward flow of fluid (gas or liquid) through a particle bed acquires sufficient velocity to support the particles, but without dragging them along with the fluid. The efficiency in the use of a fluidized bed depends first on the knowledge of the minimum fluidization velocity needed. Below this velocity the bed does not fluidize; and above it, the solids are dragged out of the bed.
GENERAL CHARACTERISTICS OF FLUIDIZATION:
At very low speed : The fluid runs through small, tortuous channels, losing energy and pressure; and PD (Pressure Drop) is a function of permeability, particle roughness, density, viscosity and surface velocity.
With increase of speed: It reaches a value that the dynamic action of the fluid allows reordering of the particles, in order to offer less resistance to the passage.
Higher velocities: The particles cease to be in contact and looks like boiling liquid.
ADVANTAGES OF FLUIDIZATION:
Surface area is larger, because the particles can be much smaller favoring the transfer of heat and mass;
High reaction rates, compared to fixed bed reactors, due to bed uniformity (absence of gradients);
Increase in heat and mass transfer coefficients due to increased conductance and temperature uniformity;
Coefficients of heat transfer between bed and equipment walls or immersed pipes are extremely favorable;
Easy flow in ducts, because the solids behave like fluid;
Favoring energy transport due to fluidity.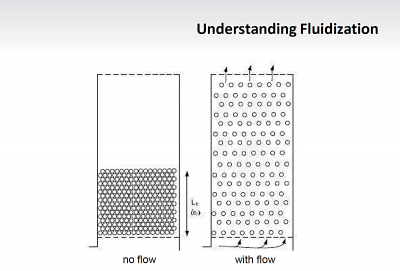 Suitable fuel types
Due to the characteristics of fluidized bed HGG, a wide range of solid fuels can be used in heat generation. They can be used alone or mixed in more than two types. The proportions of this mixture may vary, but the points below must be respected.
Usually the main physical/chemical characteristics to be respected are:
Grain size (depends on the fuel);
Moisture (for handling and disposal purposes);
Lower calorific value – LCV (normally above 2.500 kcal/kg);
Melting contaminants in the ashes of fuel (Contaminants with melting point below 800 °C such as sodium, potassium, iron should be avoided).
The Solid Fuel HGG has the following main process characteristics:
The HGG can work at temperatures from 500 °C to 900 °C without forced dilution system (depends on negative system pressure).
The HGG can work at temperatures from 200 °C to 900 °C with forced dilution system.
The HGG must work with negative pressure (at least -1 mBar).
The HGG can generate thermal powers from 0,1 Gcal/h to 50 Gcal/h (or more, depending on the case and layout).
The HGG has a modulation range from 60% to 100% of thermal power (may be more if more than one HGG is installed).
The HGG can work with collection cyclone if particulate emission restriction exists (typical particulates are fine ash).
The Solid Fuel HGG can be applied in processes that needs hot gases such as:
Drum dryers
Rapid dryer
Spray dryers
Hammer mills
Cement and raw ball mills
Cement and raw vertical mills