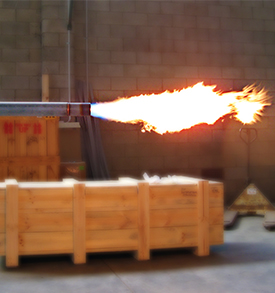 Ignition Systems
Industry Applications:
Safe ignition of any process burner
Product Details:
Gaseous or liquid fuels
Typical 60kW firing rate
Suitable for 50mm NB (2 inch) guide pipe
Benefits:
Safe and reliable ignition of large burners
Ionization rod flame proving
Complies with industry codes and safety practices
Designed for safe and reliable ignition of large burners. FCT Combustion's ignitors are the most effective and safest way to light a large capacity kiln burner.
Suitable for a range of fuels and firing rates, the robust construction of FCT's ignition system makes it ideal for use in harsh plant conditions. It can be manufactured to any length required to suit the main burner. Compact enough to fit into a 50mm NB (2 inch) pipe, it can also be retro-fitted to non-FCT burners.