FCT COMBUSTION NEWSLETTER: OCTOBER 2019
FCT COMBUSTION NEWSLETTER: OCTOBER 2019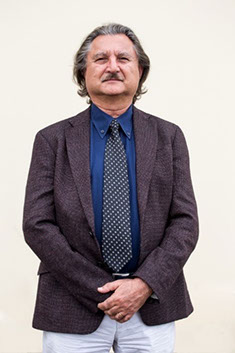 Dear Friends,
In October, FCT will celebrate it's 35th year of operation.  It has been quite a journey but in my 24 years as a Director of FCT, there has never been a more exciting time than now.
We are blessed with good energetic people who are driving the company forward and the growth looks certain to continue into the future.
Development of new and improved products and services is key for us to deliver extraordinary value to our customers, and we are investing heavily in that.
But more than that, we pride ourselves on being accessible, flexible and focused on our customer needs to deliver performance. Our long term relationships and repeat business help all parties to understand each other's needs and leads to mutual multiple benefits.
Several key appointments have been made within FCT as detailed later in this newsletter, in line with our growth objectives, strategy and focus.
As always, we are grateful to our customers without whom no company can exist and welcome any feedback that can help us to service you better.
This newsletter is to tell you more about us and our activities and I trust you find it relevant to your business in some way.
Enjoy the Read!

Managing Director
FCT International
PROJECTS ACROSS THE GLOBE
RECENTLY COMPLETED OR CURRENTLY ACTIVE PROJECTS ACROSS FCT COMBUSTION INCLUDE:
AMERICAS
Votorantim Cimentos, Cuiaba, Brazil
FCT Combustion will provide two new Turbu-Flex™ burners (main and spare) capable of operating with petcoke, fuel oil and coprocessing alternative fuels including rice husks and wood shavings.
Imerys, Andersonville plant, USA
The French multinational company specializes in the production and processing of industrial minerals. Imerys intends to replace their existing main burning system at the Andersonville plant to accommodate alternative fuel firing for its 6 kilns. The main goal is to allow the usage of 100% peanut husks as alternative fuel in substitution with natural gas. The project is currently active with expected completion in December 2019.
Lafarge Holcim, Ravena plant, USA
Lafarge Holcim is upgrading its combustion system to allow 100% natural gas firing at the Ravena plant's 6,000 tpd kiln. FCT Combustion will supply a Turbu-Jet™ as the new main burner, which is designed to fire up to 31% oil, 100% coal and 100% natural gas. FCT will also supply a calciner burner designed to fire 100% natural gas.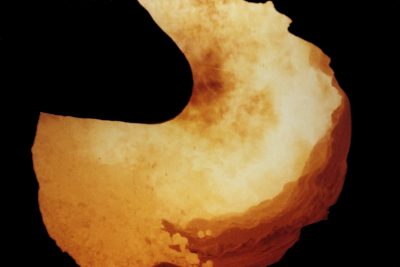 Cemmac (Asamer Group), Horne Srnie plant, Slovakia
Turbu-Flex™ burner system for a clinker kiln. Main targets are increase in alternative fuel firing and improvement of flame and emissions control. Project includes the delivery of burner and surrounding equipment as well as a CFD of the kiln for further optimization of the process. Delivery scheduled for January 2020.
Carmeuse Czech Republic, Mokra plant, Czech Republic
Turbu-Jet™ burner system for a rotary lime kiln. Main targets are the increase of substitution rate by alternative fuels, improved combustion and operation control. Included in the scope is the kiln burner, trolley, burner management system and surrounding accessories. Currently the equipment is under manufacturing for delivery in October 2019. Commissioning is planned for November 2019.
Finnsementti (CRH Group), Parainen Plant, Finland
Turbu-Flex™ burner system for a clinker kiln delivered in March. Commissioned in April 2019.
Finnsementti (CRH group), Lappeenranta plant, Finland
Turbu-Flex™ burner system for a clinker kiln delivered in May 2019. Commissioning expected for October 2019.
Papelera Guipuzcoana de Zicunaga (Iberpapel Group), Hernani, Spain
New natural gas valve train and burner management system for lime sludge kiln. Commissioning scheduled for September 2019.
Undisclosed client, Spain
CFD for combustion optimization. Final results in October 2019.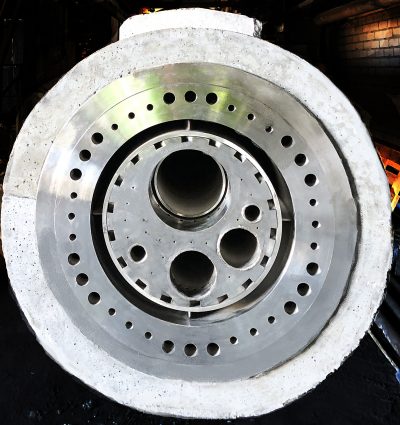 Turbu-Flex™ burner delivered for Finnsementti earlier this year
Metso, Western Australia
Combustion equipment for 2 x lithium ore (spodumene) processing lines. Supply includes 2 x Turbu-Jet™ burners for calciners and 20 x burners for acid roasters, valve trains, BMS systems and fans.
Lam Thach Cement plant, Vietnam
Turbu-Jet™ burner was designed to fire low calorific value coal for the Lam Thach Cement plant which was successfully commissioned in July 2019.
Sinosteel, China
Two complete iron pellet industry burner systems were delivered for projects with Sinosteel in China in June and July 2019. The scope consisted of gas burners, gas valve trains and burner management systems.
Asfour for Mining & Refractories, Helwan, Egypt
Further to a process study undertaken by FCT Combustion previously, a Turbu-Jet™ burner system was delivered and commissioned in June 2019. The main goals of the new burner are lowered NOx emissions, improved fuel consumption and an optimized flame.
Vinacomin, Tan Quang Cement plant, Vietnam.
FCT Combustion will provide a Turbu-Flex™ burner to fire low calorific value coal for the Tan Quang Cement plant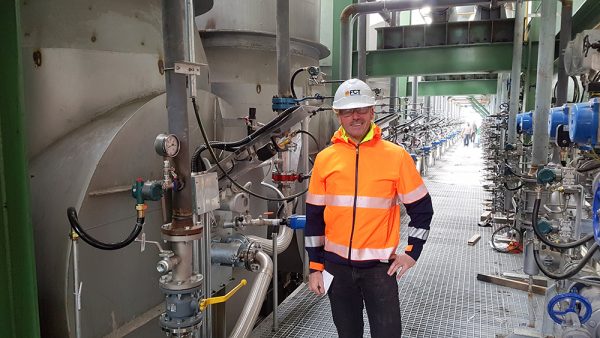 Tim Marriage, Asia-Pacific Engineering Manager, at the commissioning of iron ore pellet burner systems for a Sinosteel project in China
We know that our continued market growth is due to the people of FCT Combustion, and our commitment to providing the best service and expertise across all our offices. We are pleased to welcome the following new members to our team and celebrate those who have taken on new positions within the company.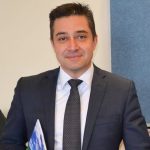 Sean Ebert: CEO, FCT Combustion (Asia Pacific)
Sean has joined us as CEO of our Asia Pacific operations. Originally trained as an electrical engineer, Sean has extensive experience at the executive level holding previous roles such as CEO of CAMMS, Global Director of Merger & Acquisitions at Worley Parsons and, most recently, CEO of Beston Global Food.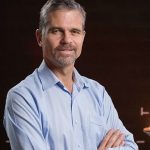 David Retallack, Chief Technical Officer, FCT International
David has recently taken on the role of Chief Technical Officer, working with all regional offices to lead new product development across the group. David was previously CEO of FCT Combustion (Asia Pacific).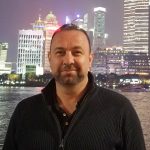 Shahrooz Afshar: Global Director, Iron Ore & Steel, FCT International
Shahrooz accepted the position of Global Director, Iron Ore & Steel earlier this year, leading FCT Combustion projects with industry related focus worldwide. Shahrooz was previously CEO of FCT Combustion (Middle East & North Africa).

Paulo Mazzei: Head for Sales and Order Execution, FCT Combustion (Americas)
Working across our North and South American offices, Paulo joined us in April this year and brings a wealth of experience having formerly been Manager for Sales and Operations at Raymond Mills in Latin America. Paulo also has several years experience at thyssenkrupp Industrial Solutions (Polysius).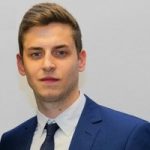 Daniel Pesic: Project Manager, FCT Combustion (Europe)
Daniel joins us as Project Manager for FCT Combustion's European operations based in Vienna, Austria. Prior to this, Daniel was Project Manager at Siemens and has also worked in business development for IMI Precision Engineering.
Special Mention
We were pleased to welcome Natalia Rosado as an intern with FCT Combustion's US office in Florida this summer. Currently in her fourth year of Industrial Engineering at Recinto Universitario de Mayaguez in Puerto Rico, Natalia was a bright and energetic addition to the team and always pro-active and eager to learn. We wish Natalia the best of luck in her future endeavors!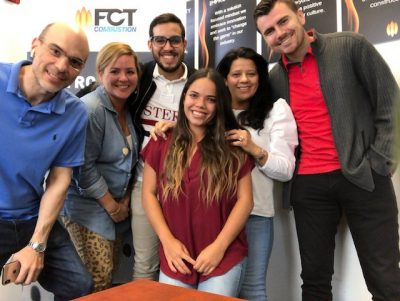 Americas
Mr Ricardo Costa (Technical Sales Director) will discuss safe conversion to natural gas at the 38th International Cement Seminar and Exhibition 19-21 November in Room 1 from 13:30 at the Cobb Galleria Centre, Georgia, USA.
Mr Douglas Goncalves, Project Manager, presented 'Combustion in Minerals Processing' at the Cement Business & Industry Brazil & LatAm 2019 Conference and Exhibition in April, which was held in Sao Paulo, Brazil.
We will also be attending the following congresses this year:
ILA General Assembly

, 9-12 October 2019 in Buenos Aires, Argentina.

PEERS-TAPPI 2019

, 27-30 October 2019 in St Louis, Missouri, USA.

Cement Technology & Transformation 2019

, 19-21 November 2019 in Atlanta, Georgia, USA.
Europe
We will be attending the following conferences this quarter:
Cemtech Europe 2019

– Meet us in Booth 8 at the event held from 30 September to 3 October in Berlin, Germany.

TCBM Conference

– Meet us in Booth 9 at the event held from 8-10 October in Antalya, Turkey.
Asia-Pacific
Mr Roger Hassold, General Manager FCT Combustion Asia Pacific, will present "Burners for all fuels" at the 24th Arab International Cement Conference and Exhibition (AICCE24) in Cairo, Egypt on the 24th of November at 15:50
Dr Shahrooz Afshar and representatives from FCT Combustion were pleased to attend METEC 2019 in Dusseldorf, Germany in June. It was a pleasure to meet all those who visited the booth!
Mr Roger Hassold attended Cemtech Asia in June, which was held in Bangkok, Thailand. Dr Peter Storer of our sister company FCT ACTech presented a case study 'Recent Advances in Raw Meal Control'. Thank you to all those who visited us at the event.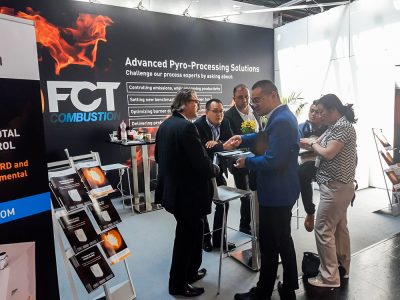 Mr Con Manias and Dr Shahrooz Afshar with visitors to the booth at METEC 2019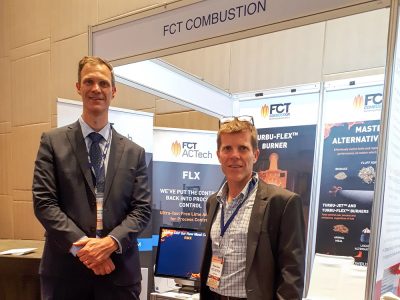 Mr Roger Hassold and Dr Peter Storer at Cemtech Asia 2019
Introducing the new I-Jet burner system
Our latest burner technology, the I-Jet, has been specifically designed to address market need within the traveling grate iron pellet industry.
Equipped with two gas channels, the I-Jet gives operator the power of easily adjustable flame shaping while also providing exceptional turn-down ability. An outer primary air channel provides the momentum for early mixing of the fuel which improves cold start stability.
Suitable for all gaseous fuels, the I-Jet operates on natural gas, LPG and mixed gases from Blast Furnace and Coke ovens. The I-Jet can also be equipped with an oil lance to fire diesel, which will enable oil and gas to be co-fired.
Designed for easy maintenance, the I-Jet is available in stainless steel or galvanised carbon steel, depending on the environment and fuel type used.
The burner is also available as a burner gun only for retrofitting to existing furnaces, or can be supplied complete with a cast refractory, sight glass, flame detector and igniter. The igniter can be a gas fired pilot burner or a High Energy Spark Ignition system. Fitted to a retractable pneumatic cylinder, the igniter tip inserts up to 250mm past the refractory block into the flame ignition zone.
FCT Combustion can also design and supply the fuel handling valve trains for gas and oil, and local control panels together with burner management system – all monitored by a Shutdown PLC which can communicate with the plant control system.
Download the product sheet to learn more or contact us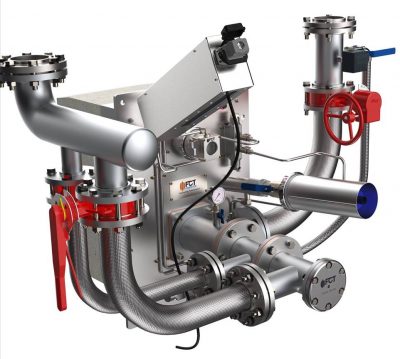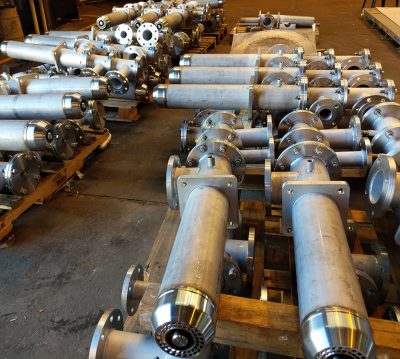 FCT Flames stun at the Pan American Games in Lima
Congratulations to our sister company FCT Flames for delivering a spectacular cauldron and relay torches for the Pan American Games recently held in Lima, Peru. The Opening Ceremony stage was designed as Pariacaca, the sacred mountain of Lima, with the cauldron design representing the Incan sun.
FCT Flames was proud to deliver the stunning feature on time and to specification.
"As we've come to expect from FCT, delivery was flawless. Everything looked exactly as designed, went in and out quickly, the system was always commissioned in advance, always worked as intended and the team was always standing by when needed – even when I forgot to call them!"
– Dave Williams, Head of Production
Another key project FCT Flames has recently been involved in is the design, installation and commissioning of two large bonfires at the new Al Bayt Stadium in readiness for FIFA 2022. Installed on top of 12m high concrete towers, the 5m high stylised logs and up to 9m high flame will welcome football fans to the stadium. We look forward to seeing it!
Lighting of the cauldron at the Pan American Games
Case Study:
Making production rise while sending emissions crashing down
How the Gyro-Therm™ burner put kiln process control firmly into the hands of operators at one of America's largest cement companies
Customer:
One of the largest cement producers in the US; approximately 4.8 million tpy of cement and 270,000 tpy of lime.
Cement types produced:
ASTM I, II, III, masonry, oil well
Kiln type:
4 stage preheater kiln
Fuel:
Incorporated into a burner firing pulverised coal simultaneously with natural gas fuel. The requirement was to fire 0-100% natural gas, 0-100% coal and 0-10% waste oil while allowing for 0-20% tyres being fed into the riser.