It's an interesting dichotomy – as the foundation of infrastructure and urban development, cement is one of the world's most vital industries, however, the industry is also responsible for more than 5% of the world's man-made CO2 emissions.

A transformational change is now underway, with the industry looking to reduce its carbon footprint in the interest of sustainability. The use of supplementary cementitious material in Green Cement – including calcined clay – can reduce carbon emissions by up to 40%.

One of the challenges in the commercialization of calcined clay based Green Cement is the ability to keep the traditional grey coloring, as the iron (Fe) content often found in clay can result in the product being a reddish hue. Here, Adriano Greco, CEO of FCT Combustion Inc, talks about FCT's ability to produce calcined clay with appropriate color, regardless of high Fe content.
The demand for calcined clay is growing so fast that FCT has put together a specialized team to support this emerging technology. Internally, they are like superheroes, so I personally refer to them as the 'FCT LC3 WINNING TEAM'. LC3 means Limestone Calcined Clay Cement, and the team is WINNING because they are responsible for 12 plants commissioned across the world; 8 were brownfield plants and 4 were greenfield plants.
The key people are:
Pedro Ladeira: Prior to joining FCT, Pedro was the LATAM Process Manager for the biggest cement group in the world for many years. Pedro obtained his Masters in NOx emission reduction in clinker kilns and holds patents in the UK.
Renato Greco: Pyro-Specialist who pioneered the design of a complete clay calcining new plant in Brazil, with a second plant now completed. one of the most experienced pyro-processing experts in the world.
Danilo Nogueira: Prior to joining the FCT Team worked with the biggest Brazilian group for decades and completed 5 clay calcination conversions across Brownfield and Greenfield projects.
Joel Maia: A brilliant mechanical engineer with Thermo-Fluid- Chemistry background based with FCT in Europe. Joel has developed and patented some of the most innovative burners for high temperature processing industries.
Ricardo Costa: I like to call him the Wizard. Ricardo is also a mechanical engineer with Thermo-Fluid-Chemistry background, who can bring any idea into reality.
David Retallack: Currently FCT's Chief Technical Officer and on the Board of Directors, David is an experienced and talented mechanical engineer with 23 years experience in various senior roles with FCT. Prior to FCT, David had senior management and technical roles in maintenance and production with Adelaide Brighton Cement.
This Team is supported by over 50 others working for FCT from several other countries in North and South America, Australia and Asia, and in Europe. We are a team of pyro-specialists that have executed jobs in all corners of the world with local offices in most of our key markets.
Why is there demand now?
It seems there is an accelerating move by many of the major cement producers to position themselves to produce calcined clay cement and in the last 12 months we have started to receive rapidly increasing numbers of leads and enquiries. Concern around CO2 emission levels from industrial processes is growing around the world, imposing significant pressure on the cement industry given its carbon footprint.
Clays are stiff, sticky fine-grained earth, typically yellow, red, or bluish gray in color and often forming an impermeable layer in the soil. There are several types of clay that can be used as cementitious materials after activation: Illite, Kaolinite, Montmorillonite, Calcined kaolinitic clays and so on. The use of these clays can reduce emissions by up to 40% per tonne of cement.
How does FCT approach clay calcining?
The FCT Clay Calcining Process:

FCT collaborates with associated laboratories to perform Thermogravimetric/ Differential Scanning Calorimeter and Le Chapelle tests. FCT also has access to pilot plants in Europe, and  in the Americas for testing. The synthetic pozzolan produced would be shipped back to the client to allow the preparation of different cement blends with the produced pozzolan for laboratory assessment of its strength.
It is also possible to do industrial scale tests in a 10 tph unit in Europe in order to provide significant and consistent tests. The calcined clay can be shipped back to the client to allow plant scale tests in the cement milling circuit for final proof of quality before building a full plant.
The project may be accomplished in several different ways on a  case by case basis determined by technical and/or economical means:
FCT FlashCalx Calciner is a suspension calciner that can be installed with a mill or in an integrated plant. Existing equipment may be re-usable such as an existing pre-heater tower for example.
FCT RotaCalx is based on a rotary kiln that can be either greenfield or brownfield. FCT can even source parts of old kilns or dryers as needed and match with new equipment as needed to complete the design and supply of a clay calcining plant.
FCT RotaCalx

As greenfield or brownfield projects, the use of rotary kilns can be a good starting point for calcined clay production, especially in the case of integrated cement plants in which existing equipment can be revamped to a rotary calciner.
FCT has extensive knowledge in clinker rotary kiln conversions into clay calciners, and longer kilns can be very effectively repurposed for this type of application.
It is important to highlight that some of these previous conversions used only rotary kiln or dryer parts, others were greenfield and others were modifications to existing kilns.
FCT FlashCalx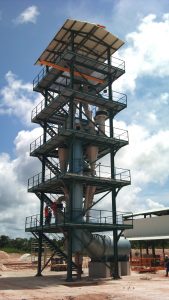 Prior to the flash calcination, raw material must be dried down to 1% moisture. This is accomplished either by a flash dryer, a rotary dryer, or their equivalent depending on the moisture. In some cases, a dryer-grinder might be required.
The selection of the dryer-grinder should be done case by case, very carefully considering the moisture and composition of the material. The flash calciner exhaust gases are used to dry the raw material so that the operation does not require an external heat source to dry the material.
The installation comprises a state-of-the-art hot gas generator that gives huge flexibility on the type of fuel to be used. The hot gas generator, also proprietary to FCT, can fire traditional fuels as natural gas, fuel oil and pulverized fuel or it could be a fluid bed hot gas generator that can burn lumpy coal and alternative solid fuels.
FlashCalx vs. RotaCalx
There are several solutions to calcine clay. All of them have their advantages and disadvantages. FCT Calcined Clay Team has decades of experience to support customers in all their needs regarding green cement production.
Each project should be evaluated with its own specifics and particular costs, and FCT is ready to support the customer to choose the most appropriate method and deliver the best solution to produce high quality activated clay.
What about color control?

Yes, we have a solution. From reducing atmosphere to quenching (that increases fuel consumption) to the addition of inorganic modifiers (FCT proprietary solution)  that does not increase fuel consumption FCT has the ability to control the color of calcined clay produced and hence the colour of the blended cement.
Further options use additional fuel mixed with the clay feed but these can produce VOC and increase fuel consumption, so is not preferred by FCT.
At FCT, we have the team, experience and local presence to help our customers easily adopt clay calcining technology. Please don't hesitate to contact us and we will evaluate your case.